May 21, 2021 | By Jay Devers
Don't get burned by undeclared hazmat. Declare properly with Bestway.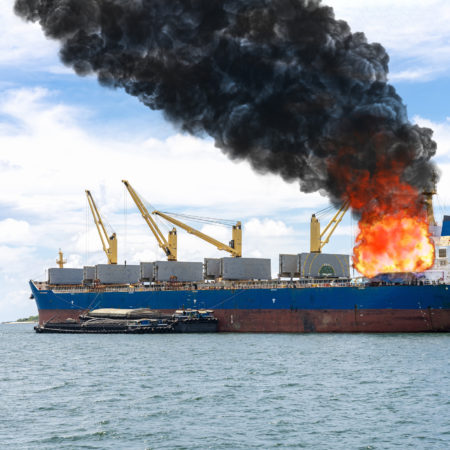 Hidden or undeclared hazmat in ocean freight cargo is a dangerous issue that impacts the full length of the supply chain. On Friday, May 14th, the NYK Delphinus, a 4,888 teu containership caught fire off the coast of Monterey, CA, and is currently being towed to the Port of Oakland where the fire damage will be assessed and insurance investigations can begin. In this particular instance, there has been no loss of life reported but many containership fires have a real human cost, especially when hazmat is involved. 
As containerships grow in size to mammoth vessels capable of carrying well over 10,000 teus, the fire safety and suppression technology aboard is slow to keep pace. The suppression requirements have not allowed the firefighters aboard and at the port the ability to grow as exponentially fast as the ships have. Hazmat issues make the fires more difficult to fight and if that hazmat is incorrectly declared, hidden, or just erroneously placed on the vessel the fire can be exacerbated by traditional suppression methods leading to a loss of either cargo or crew. 
Even properly declared cargo can be a problem, as see in the Beirut port explosion when surrendered ammonium nitrate left in a warehouse caught fire and blew up several city blocks. 
Experts think the incident rate of a container fire could be as frequent as once per week especially in the summer when ambient temperatures rise and cargo is left sitting in the sun at ports and on ships. These fires aren't on par with the weather issues and container collapses that we saw last year – instead, there's an actual fault to be found, especially with miss or undeclared hazmat. 
In one of the worst container fires we've recently had, the issues surrounding the fire on the MSC Flaminia cost five souls and countless dollars of cargo. In that case, responsibility was split 45% / 55% between the forwarder and the manufacturer based on the cargo nature and information available. 
"NVOCC Stolt Tank Containers B.V. possessed extensive information regarding the heat-sensitive nature of the DVB yet it: (1) failed to pass information to the ocean carrier, MSC, in an effective manner regarding the dangers of heat exposure . . . and (2) was responsible for arranging loading the DVB into ISO containers earlier than it should have, and arranging for those to be transported to [New Orleans Terminal] and deposited in the open air at the terminal," Judge Forrest wrote. 
Bestway cannot stress the importance of properly declared cargo enough. We take our role in the safety and security of the people in the supply chain very seriously and depend on our clients to provide as much good information as possible to ensure we're taking every necessary precaution to accurately represent the shipments we're making. We've been working in this industry for a long time and understand that rules can change in an instant and be a complex or convoluted process that occasionally seems overly exhaustive. However, we don't ask that you try to navigate alone. Your Bestway representatives are here to help, to sit down with you and your cargo details to make sure we are compliant and shipping in the safest manner possible. We depend on you for the quality of information but find it our duty to help you make the best practices your default shipping standard. If you have any questions and need guidance, contact Bestway today!