August 24, 2020 | By Jay Devers
Storms on the horizon? Bestway has you covered.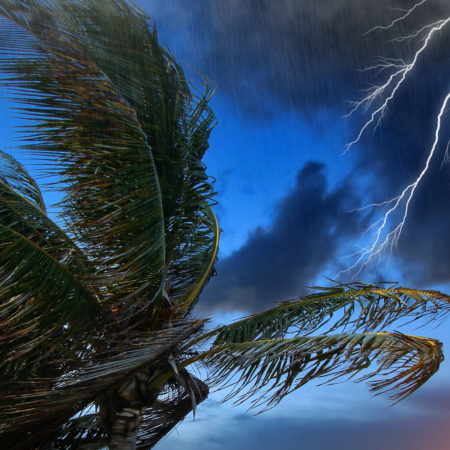 With two major storms approaching the Gulf of Mexico and the 15th anniversary of Hurricane Katrina making landfall coming on August 29th, Bestway wanted to take this opportunity to discuss the issues that can arise after a storm and ways we're working hard to ensure continuity of service when disasters strike. Because we're no stranger to disruption in this industry and the issues it presents to our customers, we take the impending storms seriously, even when they're not on track to impact our front yards. Storms like Sandy, Hugo, Andrew, and others may have been hundreds of miles away but they still take a difficult toll on the logistics industry as damage to infrastructure can cause problems with fuel, ports, highways, power services, and even trucks to pull containers or deliver at the final mile.
Currently, Tropical Storm Laura is forecasted to hit Florida between Monday – in the southern section – or Wednesday – near the panhandle, depending on how the trajectory changes through the weekend. Wind, cold northern air currents, water temperatures, and just natural phenomena all can send a storm off the expected path with little warning, though as the storm grows closer to land, the predictions become solidified and more likely in a smaller area.
Just behind Laura is TD (Tropical Depression) 14, the 14th depression / storm to reach 25MPH winds. This storm is expected to grow into a tropical storm over the weekend and then strengthen once it reaches the warm Gulf waters, making landfall near Texas during the week. Again, predictions can and do change, as a short time over land can break up a storm fast, despite its power over water.
Bestway Global Logistics might be a Midwestern hub, but we still route freight through the coastal ports that are impacted by storms and updated sailings, journeys, and alternate ports that might have to be investigated depending on the damage done and downtime needed for recovery. We're able to swiftly pivot to different delivery points for ocean service to ensure we aren't delaying cargo or further contributing to congestion that prohibits areas from recovering from Mother Nature's wrath.
If you need to make a plan to circumvent weather issues, or just want to know your freight is on track to ship without delays, call on us to look over your supply chain to see where we can save you time and stress during this season. It's our passion to bring you options, solutions to modern cargo issues that can lead to delays, fees, and possible destruction if your cargo is already on the coast. We take these storms seriously and can work with your overseas agent to keep you prepared.