May 8, 2020 | By Jay Devers
Container imbalances require creative solutions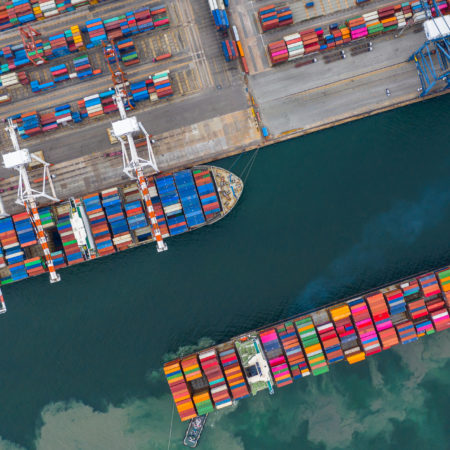 As blanked sailings increase, the container imbalance impacting ocean freight continues to grow. The outbreak of COVID-19 and subsequent stay-at-home orders crippled consumer demand for essential goods, leaving non-essential products lingering on shelves and in warehouses. This imbalance had eaten into the available warehouse capacity and doubled the turnaround time for inbound containers in both the United States and Europe. Carriers are working to find solutions to mitigate the imbalance, but this is a regular problem for ocean shippers, exacerbated by a global pandemic.
The easiest solution has always been to unload containers into inventory or warehouses for storage until market-ready, but inventory and storage are filling up too quickly as consumption dropped off a cliff. Analysts understand that the UK alone is at 90% warehouse capacity and expect that all available warehouse space will be taken by May 18th. With ocean shipment volumes falling, blanked sailings rising, and fewer ships calling ports, containers can't be repurposed to areas of need.
Some carriers are offering services such as Delay-In-Transit or Suspension-of-Transit, which are options to offload cargo at transshipment ports for storage until they can be delivered and received by customers. Because containers aren't being emptied and returned to service the pool of equipment is dwindling. More often containers are remaining at the ports long after arrival because there's no place to put the cargo and nowhere else to leave the container.
As told to Maritime Executive, Mike Wilson, CEO of Consolidated Chassis Management explained, "We're pretty close to an all-time utilization low, running at about 52 percent. But for the many chassis that are in use, we're seeing a steady rise in the on-street dwell time from about four and a half days upwards to ten days right now, and some locations in the interior are beyond that. So that's telling us that the cargo is being sent out of the facility, but the container is not being unloaded, it's sitting somewhere."
Fewer chassis out for longer use shows that these containers are likely being used as temporary storage for goods that have no place on shelves and no warehouse space to enter. As cargo volumes start to rise again, some of the issues will naturally work themselves out, but until then carriers are going to great lengths to creatively source solutions. Earlier in April, MSC deployed the MSC ANNA to retrieve empty containers and reposition them back to Asia where they were in short supply. The 19,200 TEU mega-ship was the largest to ever call the Port of Oakland. She collected containers from the entire west coast to return to China as their production ramped back up after weeks of delay from the pandemic.
Freight forwarders and importers are also finding creative solutions to assist clients with their ocean cargo and inventory storage needs. We at Bestway are centrally located in the Midwest near distribution and rail hubs where cargo can be loaded and immediately directed to all US ports. Our strategic partnerships offer a variety of storage and holding solutions to accommodate the cargo you need to be handled and we'd be happy to work out a solution to your warehouse and distribution needs.