February 27, 2020 | By Jay Devers
Implications of Coronavirus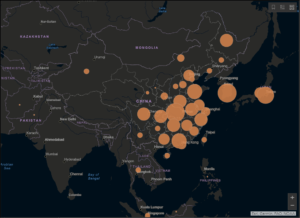 As the implications of the coronavirus continue to grow in complexity and effect, it is impacting production and trade in China significantly.
Ocean carriers have increased their cancelled sailings from China to worldwide destinations. Such announcements are raising concerns of impending equipment shortage in overseas markets. For example, equipment shortages are expected in the USA, particularly at inland depots. Europe forecasts a shortage of equipment for exports at origins in the near future. We are seeing a continued strain on airfreight capacity due to the reduction of passenger flights to and from China.
We all hope and trust this medical emergency will improve quickly for the sake of those affected. However, due to the magnitude of the challenge we all face, repercussions will likely linger for the next few months. Bestway International, along with our global partners Hellmann Worldwide Logistics and others, have worked on contingency plans to minimize the disruption overall. These include alternatives to our traditional routings and increasing our carrier portfolio to include even more carriers.
All these factors may result in increased costs and/or surcharges. We will continue to monitor the situation and inform you as things progress. Above all, we share our great concern for the health and safety of our teams and partners, and we thank you for your understanding.
For those of you in Kansas City, please consider attending this update seminar on March 11:
https://membership.kcchamber.com/events/details/the-emerging-impacts-of-the-coronavirus-10616