June 27, 2017 | By Jay Devers
Union Pacific adds new origin and destination for domestic trains from the West Coast to Kansas City.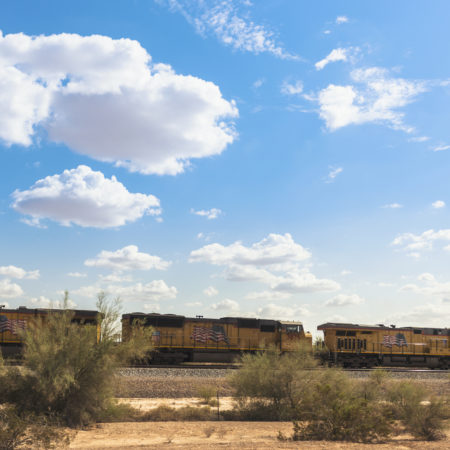 Los Angeles and Long Beach in Southern California represent the largest ports for sea freight arriving into the United States. In addition to the millions of containers which terminate and remain in area, millions more make their way across the country to New York, north into Canada and into the Midwest. The Union Pacific operates two major facilities in Southern California, one approximately twenty miles away from the port complex for domestic cargo which is the origin point for transloaded and reconsolidated intermodal containers bound for retailers and their distribution centers. Their second facility is focused on those international container arrivals and are meant to speed them from ship to far away depot as quickly and expeditiously as possible.
Recently, the Union Pacific began sending domestic trains to and from their Intermodal Transfer Container Facility, or ICTF, to Kansas City and St. Louis. Located five miles from the ports, this saves transportation, fuel and environmental impact for containers which are originating in SoCal but are not of international origin. But there's a distinct lack of real estate available for such domestic transload activity near the port – a Jones Lang Lasalle survey from January found a vacancy rate of a whopping 0.9%.
Bill Mongelluzzo covered this for the Journal of Commerce (subscription required) after attending an event for the Los Angeles Transportation Club. Rob Leachman, a professor of engineering at UC Berkley, authored a paper on this subject earlier this year with these astounding statistics from 2015:
Of the 7.8 million TEUs (twenty-foot equivalent units) of waterborne, containerized imports through the SPB Ports in 2015:

  Less than one quarter of these imports (about 21.3%) were actually consumed in the broad local region defined to include Southern California, all of Arizona and New Mexico, and the southern portion of Nevada.
  36.5% moved to other regions intact in marine containers using IPI service versus 47% in 2001,
  42.2%, up from 32% in 2001, was de-vanned from marine containers in Southern California and re-shipped to other regions in domestic containers and trailers.
What does this mean for the markets surrounding Kansas City? Great question. We see three distinct benefits for companies in our market:
The winning bet in e-Commerce and distribution is speed to market, particularly on land. Shippers look to reliable intermodal service to make up for days lost either on the water or recovering containers from the pier.
Domestic doesn't necessarily mean "Customs cleared." We have the opportunity to build boxes of cargo in-bond to Kansas City that our customers can put into bonded warehouses or defer duty payments to aid and provide better cash flow.
For those clients who envision clearing multiple shipments at the port of arrival and then reconsolidating for Kansas City or other points, our experience shows that domestic intermodal trains are more quickly available than their international cousins.
The systems that Bestway has built and put in place are built on speed and efficiency. We understand fulfillment and why time matters, and we are committed to ensuring that all our clients can take advantage of Bestway's proprietary solutions. If you are interested in how Bestway can help improve upon your domestic handling and distribution when your international ocean cargo arrives at a US port, contact us today for more information.