June 12, 2023 | By Jim Slawnikowski
Navigating Drought-Induced Panama Canal Restrictions with Slow Steaming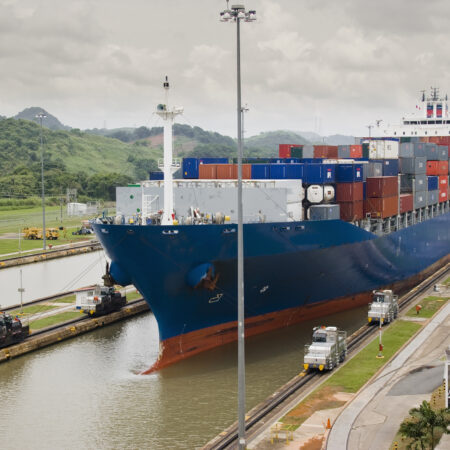 Severe drought conditions in the Panama Canal are having a significant impact on global supply chains, as the Panama Canal Authority implements draft restrictions limiting the amount of cargo the world's largest ships can carry.
From February through April, rainfall in the Panama Canal declined by 50% compared to recent averages, SeaTrade-Maritime reports. Water levels on Lake Gatun, one of two feeder lakes that supplies water to the canal, could hit historic lows this summer.
Since May 24, Neo-Panamax vessels have been limited to maximum depth limits of 44.5 feet, down from an already restricted 45 feet, according to Seatrade. The limit was reduced again to 44 feet on May 30.

The restrictions are forcing slowdowns on the Canal, since these ships now are required to unload at least 30% of their weight in cargo or more before passing through the maritime corridor.
In response to this disruption, some shippers are looking at the all-water route from Asia to the East Coast via the Suez Canal as an alternative. However, many exporters would be better served by a cost-effective logistics solution known as slow steaming.
Slow steaming involves reducing vessel speed to save on fuel costs in addition to providing other benefits in the face of supply chain bottlenecks.
Instead of canceling sailings, shippers can build time into a trade lane, extending the length of a Panama Canal journey by about a week. Slow steaming also allows shippers to avoid delays at the Canal since they don't have to wait as the larger vessels unload freight to lighten their loads.
With more restrictions expected this summer, Bestway will continue to monitor the Canal situation as it evolves. Contact our logistics experts today to learn how slow steaming can help you deliver goods efficiently and cost-effectively, even as weather patterns continue to disrupt the region. With our first-class customer care, reach out to us today to experience why Bestway is the best way.