April 21, 2021 | By Jay Devers
Circumvent Supply Chain Issues, the Bestway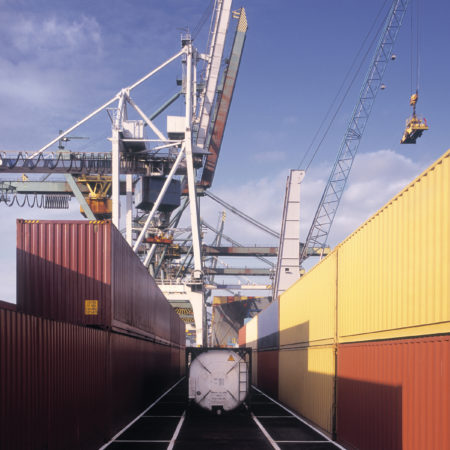 Equipment scarcity has been a scorchingly hot topic in supply chain management over the last year, along with the increased loss of containers at sea and a containership getting stuck in the Suez Canal. The crisis of compounding issues has built a level of disruption that could be considered biblical had it not been visible from the beginning. We did not wake up to find that half the supply of containers had just disappeared; instead, we watched as ocean carriers made consistently bad calls over and over again.
Containers, trucks, chassis, drivers, rail space, vessel space, aircraft capacity, everything we deal with is in turmoil, and the hole appears to keep getting deeper. Vendors feeling the pinch that comes from procurement hiccups forcing their Just-In-Time configured manufacturing operations to continue shutting down for brief periods of time as they wait for critical inventory to arrive. The closest analogy to describe the supply chain issues is swallowing before you are ready. You can feel the bite work through every inch of your chest, trying to shove the muscles out of the way, knowing the system was made to do this differently, and forcing your way through is just going to hurt.
The transportation industry typically runs like a well-oiled machine. In years prior, the general public was not privy to any significant details on the supply chain; however, as disruptions to the market continue, the issues are evident across the board. The spotlight brings critical attention to an age-old industry because concern and confusion are growing worldwide. For shippers engaged in any kind of international trade, these issues are especially acute. For example in the emerging renewables market where batteries energy storage system and solar pv modules are manufactured overseas and shipped to the project site, a delay in supply can lead to significant disruption in the timeline. For one Burns and McDonnell battery storage project, a significant amount of time-sensitive cargo was impacted by the Suez Canal blockage. In that case, hour-by-hour supply chain visibility was used to help ensure the coordination between delivery team and construction team on the arriving cargo. These updates allowed the team to pivot and keep the project progressing on-time.
What Has Caused This?
As e-commerce boomed during the early parts of the lockdown, the ocean carriers' decision to blank sailings was the first and largest crack in the foundation, undermining our industry.
The blank sailings that ocean carriers used to restructure supply and meet their incorrect expectations for demand did not entirely create the equipment imbalance. The internal shift began to make problems worse, along with increased demand for goods as access to and interest in services decreased.
In short, shopping increased exponentially during 2020, and the global supply chain has struggled to keep up in a 12 month long non-stop peak season. Even now, many stores are struggling to navigate inventory shortages. As long as the increased demand continues, we will not see a reduction in freight rates. The balance will return when people begin purchasing more services and fewer goods.
What are our options for a current solution? 
If you are partnering with Bestway, there is hope. We've made a point in our business to create strong carrier connections and worldwide partnerships with providers who can move as one entity to secure equipment and negotiate rates on behalf of our clients. We dedicate our attention to understanding the shortcomings of the global supply chain and getting ahead of them by relying on creative market solutions and strong communication.   For one Burns and McDonnell project, a significant amount of time-sensitive cargo was impacted by the Suez Canal blockage.    In that case, hour-by-hour supply chain visibility was used to help ensure the coordination between technicians and engineers and the arriving cargo.    If you are frustrated, please reach out, and we will provide you with new solutions to avoid delays and equipment imbalances. You will experience the Bestway International level of customer service when we put our experience to work for you. Times like now might be unprecedented, but we weren't caught off guard.
We look forward to speaking with you and learning how we can resolve your current supply chain concerns.